Services by APL
APL SERVICES TO ENGINEERING COMPANIES AND APL's AMINE END USERS
The services offered are well established and thoroughly mastered at the APL's government recognized R & D Center at Turbhe, in Navi Mumbai, Maharashtra - India.

The services and technical support are provided by an efficient operation and experienced-dedicated teams of engineers and chemists who have gone through vigorous training in India and abroad.

To assure the consistent realization of our goal, we offer a comprehensive five steps service program to our Specialty Amine customers. Services includes the following:
We assist in identifying the most appropriate amine for the application. A simulation model is developed which will accurately predict the performance of the APL's product in the amine unit. The simulation is kinetic and mass transfer driven providing the most complete understanding of how well the technology will perform. The simulation is also used to identify potential problems in the design so that they may be addressed before the plant is built or the product is purchased. Our simulation model provides process flow diagram, stream properties, contactor / regenerator profile & Heat duties.
Training of the amine unit operating personnel prior to start-up as this is one key to a smooth installation. To help achieve this, we prepare a start-up manual that's customized for the amine system under consideration. The operating manual covers subjects such as start-up procedures, cleaning and system preparation, operating conditions, analytical methods, troubleshooting suggestions, and the properties of the APL's product used.
Simulation model can be used to provide guidelines for operation during start-up of the plant at the different conditions which may occur.
Once the amine unit operation is stabilized, we analyze samples at regular intervals. By conducting a complete optimization study, under normal operating conditions, we can often find ways to further fine tune the amine unit(s). The APL technical support group and analytical laboratory will help to maintain a high level of performance by assisting in periodically monitoring the amine system.
APL also provides ongoing support to all users of its products.
AMINE UNIT START-UP & RELATED SERVICES
APL assists its clients in cleaning and preparing the amine unit for charging the Specialty Amine Solvent.
APL will provide the APL-Amine Plant Operating Manual, which comprises:
Evaluation of the Basics and Simulations.
System and Solution Preparation.
Operating Guidelines.
Troubleshooting checklist.
Amine-Analytical Test Procedures.
Safety guidelines.
Solvent MSDS, Technical data Sheet.
TECHNICAL SUPPORT
Simulation Services:-
APL offers the following technical services along with the product range AMINOSOL CST®/HST™/CSP® etc, free of cost.
Simulation :-
We shall provide two simulations Free of Charge every year after initial / make up of solvent purchase for the contract period.
Documentation
Gas Treating Reviews and Suggestions based on the findings.
Consultation assistance as required.
Analytical Services:-
Free Sample analysis, once in every quarter, for one year after initial purchase.
Free sample analysis, once in every quarter, in each year for which make up amine solvent is purchased for contract period.
THE APL AMINE SAMPLE ANALYSIS INCLUDES THE FOLLOWING
Amine Sample colour
Amine Weight percentage
CO2 & H2S loading mol / mol
Heat stable amine salts as weight percent amine
Total HSS as weight percent amine
pH test
Corrosion test.
Metals by ICP (Fe, Cu, Na, Cr, Ni, K)
Complete analysis of Anions by ION Chromatography (whenever required)
APL issues the following reports presenting the analytical results.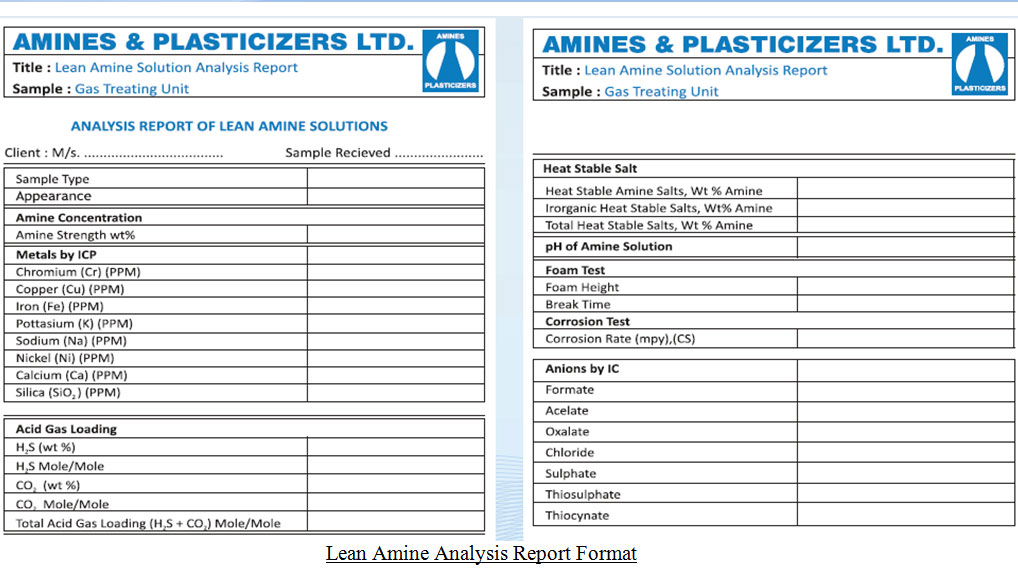 APL SERVICE AND SUPPLY COVERAGE:
The personnel of APL at the offices in Mumbai (India) will help to ensure that our customer have their service needs and questions answered promptly and efficiently.

Amines & Plasticizers Ltd., has always adequate stocks of all our products which are needed to maintain proper plant operation with fast deliveries and without any delays.